Riding on the success of Launch 5's payload and electronics, Launch 6 was essentially a repeat of our setup.
Preparation was much easier since all of the enclosure was ready, the electronics were ready, and we knew the quirks of the system. Even the weather and wind patterns were in our favor. The only downside was that only one of us had ever launched a balloon before.
One other obstacle got in our way as well; the lid from our enclosure disappeared some time ago, and we needed a suitable replacement. a carved foam plug did the job well, and we used hot glue and duct tape to further seal it. On our previous launch the GoPro froze, so this time we added a hand warmer to the back, and put it in full 4k video mode so that it would heat itself up.
One of our members, Bob Baddeley, launched his product this weekend; a wireless tip-up sensor for ice fishing called BlueTipz. To celebrate the launch, and do some extreme altitude product testing, he added his product to the payload.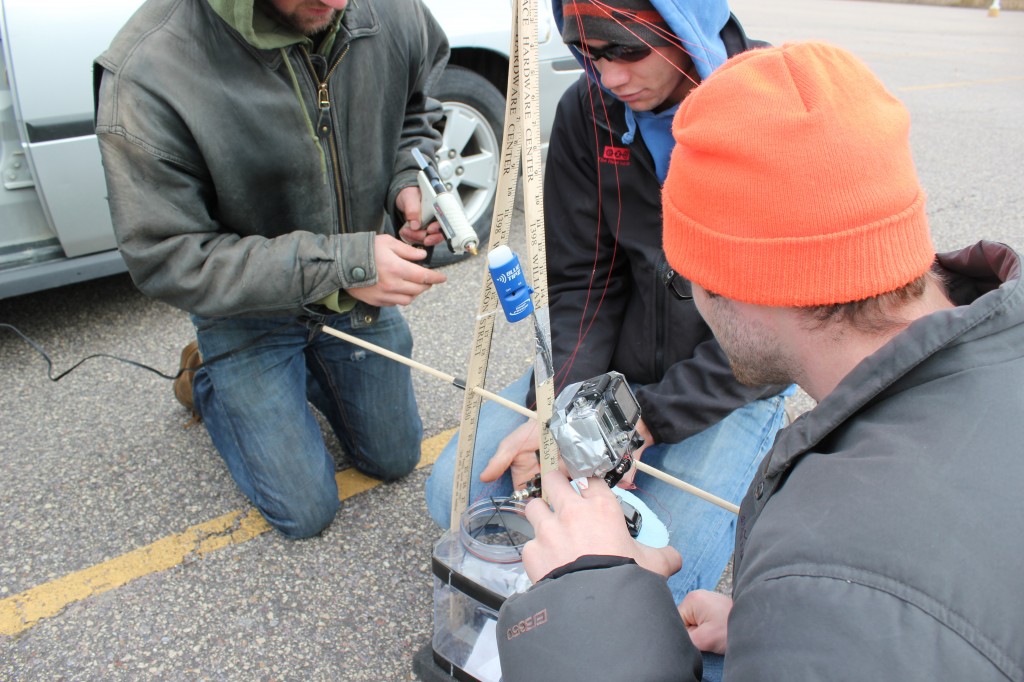 The launch was successful and the balloon went off into the air quickly, thankfully rising out of the parking lot before getting close to the very tall trees. Once again, the CUSF Landing Predictor was impressively accurate with our trajectory, which makes us more and more comfortable about using it to determine where to launch.
Here is video of the peak. Unfortunately, there wasn't enough memory in our SD card and we didn't get the entire mission, but we got some good footage. We recorded in 4k video, so every frame is amazingly high definition. Now if only we could see through clouds.
After dropping off our hydrogen tank back at Sector67 and re-running our simulations to get an idea of where it would land, we took off for Burlington, the projected destination. By this time the payload was already descending.
Once we got close, our antenna was picking up the signal, and we were able to get the exact coordinates of the enclosure. It had landed in a corn field, so finding it would have been impossible without knowing exactly where it was.
There it is!